From Sputnik News, April 29, 2015
Ukraine's Embassy in Rome has sent an official request to the Italian Foreign Ministry for comment on a recent statement by an official from the Italian Ministry of Economy and Finances about Italy possibly lifting anti-Russian sanctions in the near future, Ukrainian newspaper Evropeyskaya Pravda reported, citing a diplomatic source.
According to the newspaper, the diplomatic demarche, signed by Ukrainian Ambassador to Italy Heorhiy Chernyavskyi, was sent to the Italian Foreign Ministry on Tuesday. In the document, Chernyavskyi is said express doubts about the competence of Federico Eichberg, the Head of a Task Force on Foreign Investments at the Ministry of Economic Development. The Ambassador is also said to have proposed that the Foreign Ministry "respond to statements by Eichberg which directly contradict the government's official position."
Speaking at an Italian business conference in Milan earlier this week, Eichberg stated that Italy will not support the continuation of economic sanctions directed against Russia. "Italy has made it clear since February that the Council of Ministers will not vote for the extension of sanctions," the official noted.
Russian analysts have commented that the Ukrainian Foreign Ministry's protest seems to have come at rather an odd time, given that top Italian officials up to the ministerial level have been complaining about sanctions for several months now.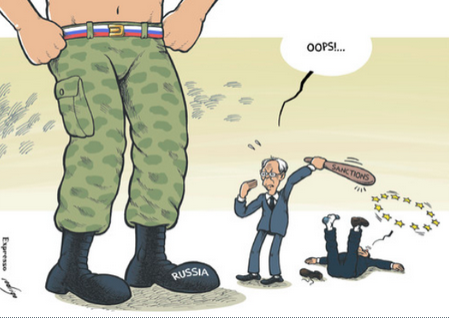 the Lemniscat @theLemniscat
On Monday, Italian Minister of Economy and Finance Pier Carlo Padoan told reporters at a press conference that he "sincerely hope[s] that we will come to canceling [the] sanctions as soon as possible, and that economic partnership between Europe and Russia, as well as Italy and Russia will continue to grow."
Late last month, Italian Foreign Minister Paolo Gentiloni told German media that the EU is too fixated on the Ukrainian crisis, for which it has blamed Russia, while ignoring other, equally important problems, adding that he has recommended that Prime Minister Matteo Renzi restore relations with Moscow, including the "partial lifting of sanctions."
Moreover, over the past year, Italian media have complained vigorously about the economic losses the country has suffered as a result of the sanctions policy. Italian businessmen last month stated that in 2014, trade turnover between the countries fell by 17 percent, with exports falling by 11.6 percent. The food and textile industries were most heavily hit, with supplies decreasing by 38 and 16 percent, respectively. In February, Banca Intesa estimated that the sanctions have caused 5.3 billion euros worth of losses for the Italian economy.
Already teetering on the brink of crisis, Europe's economies have been dealt a heavy blow by sanctions and Russian countersanctions initiated last year over the Ukraine crisis.