November 18, 2021
Cuba, a small island with a population of only 11 million people and few resources has been the target of US imperialism since its revolution in 1959.  It has been subject to invasions such as that at the Bay of Pigs, many assassination attempts of Fidel Castro, and the US has imposed a crippling blockade for years.  However, under the Trump and Biden administrations these attacks have been stepped up.  Trump greatly increased the sanctions against Cuba and labeled it as a terrorist country.  This further hindered its ability to trade with other countries as banks and markets were closed to Cuba causing severe shortages and hardships for the Cuban people.  The Biden administration maintained these increased sanctions and the terrorist label and is trying to organize demonstrations against the Cuban government based on dissatisfaction with the shortages.  This is especially criminal during the COVID-19 crisis, during which the US sanctions have not allow medicine or medical equipment into the country.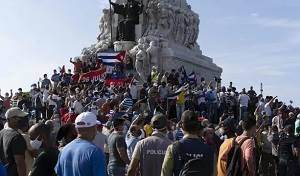 The US does not fear Cuba militarily or as economic competition. It fears Cuba because of its example to the rest of the world, especially to Latin American countries, as they move forward in breaking away from US imperialism and its neo-liberal economic policies. While the US will not provide healthcare for all, even during this pandemic, Cuba provides free healthcare and education for all. Even with the sanctions-imposed limitations on medicine and medical equipment, Cuba has done remarkable well in containing the virus and even sent doctors to help out in other countries. It prioritizes the needs of the Cuban people not the corporations, banks, and billionaire class. The example of people over profit is one that the US cannot tolerate, and so they attack Cuba.
On November 15, Cuba started opening up after restrictions due to the COVID pandemic. Biden used this day to call for demonstrations in Cuba against the government. This call has proven to be a failure as demonstration did not materialize anywhere on the island. While the Cuban people and Cuban government will have to deal with this intervention and the discontent due to shortages and the pandemic, we in the US must show our solidarity with Cuba and oppose our government's interference in the internal affairs of Cuba and other countries throughout the world.
Demonstration were called in a number of US cities on November 15 to express solidarity and help inform the people of the US of the criminal role the US government plays in Cuba. This crisis will not end on November 15. We must step-up our efforts to show solidarity and stay the hand of US imperialism.
Hands off Cuba!
End the Blockade!
End all Sanctions!
End US meddling in the affairs of other countries!